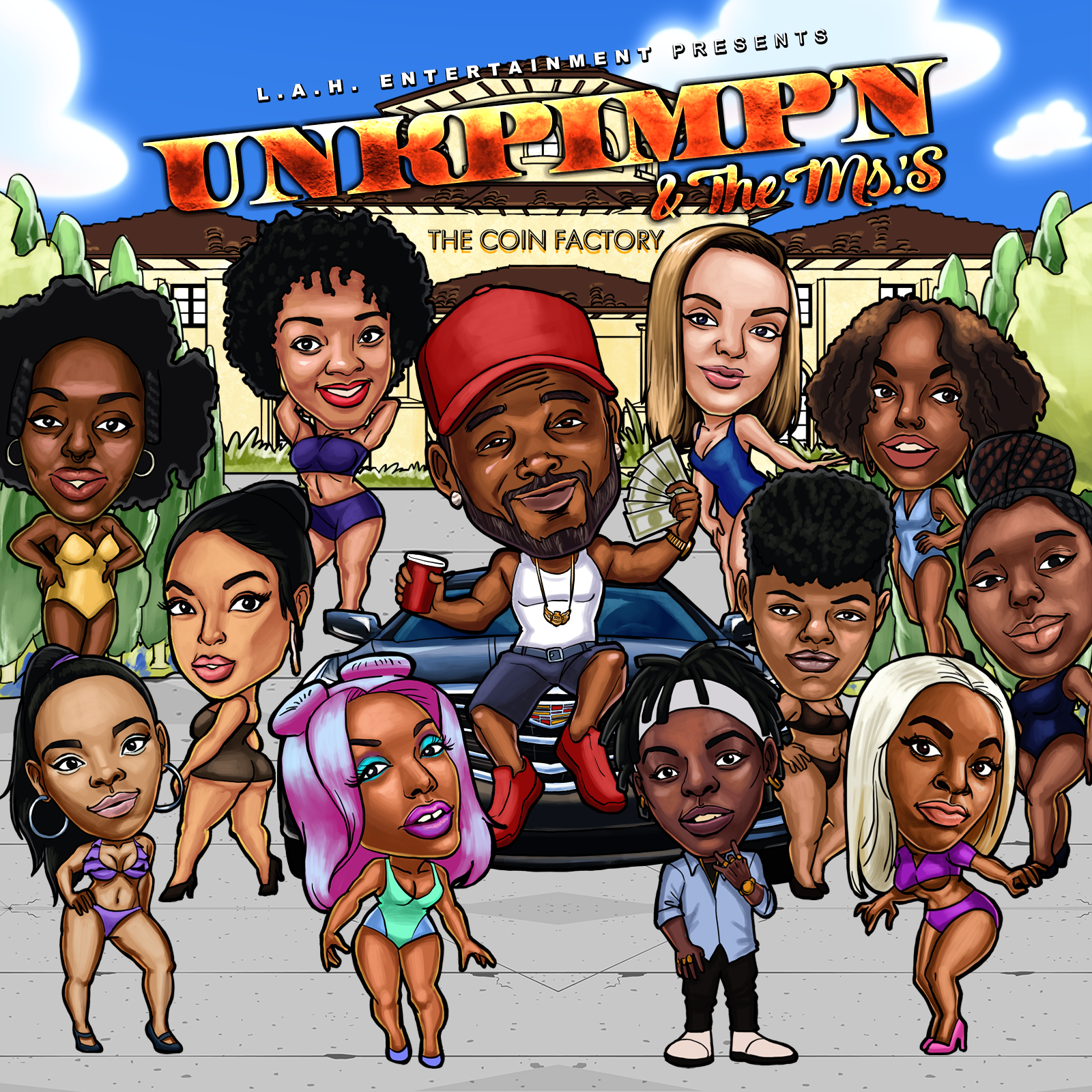 L.A.H. Entertainment presents brand new album entitled "UnkPimp'N & the Ms.'S", a searing mashup of prodigious tunes with the classic sounds that has far solidified the L.A.H. brand as a prolific staple in the music industry. Pimp'N, under the new moniker, UnkPimp'N, facilitates an array of timeless compositions that continues to provide a futuristic music experience to listeners.
The album is a heat seeker, dropping bomb after bomb, featuring new female artists; Ms. Micaliah Starr, Ms. Ba-bie, Ms. Ruby Galore, Ms. Jordan LeeAnn, Ms. Chxll Queen, Ms. Malibu Brandi, Ms. IamMoney, Ms. Coota Cash, Ms. AC2Lit, Ms. J Ward, and longtime label mates and collaborators, Drumma SC, Ms. Sha Town, and Joey Bandz. In addition, QZdamusicman, Jonez and saxophone soul musician Shableek. This new album has undeniable bangers like "C.A.F" and "WYL". UnkPimp'N gives us feels of Garth Pimp'N with dirt road riveting sounds of "Feel'N Like" and "Come With Me", displaying diverse musical growth and intentions.
Not only does UnkPimp'N, the #NewTrapCEO, gifts audiences with timeless sounds through musical melody, his helping others to gain financial freedom translates through melody and now setting new stages of development through his social circle, The Coin Factory, positioned to connect with artists and interested stock market investors all across the globe by providing insight on Day Trading, Swing Trading, Short Selling etc.
The trailblazing album is now available on all music platforms.
Tracklisting:
Come With Me (ft. Joey Badz x Pimp'N)
RSVP (ft. Ms. MicaliahStarr x Pimp'N x Ms. Ba-bie)
WYL (ft. Ms. Ruby Galore x Drumma SC x Pimp'N x Shableek)
Feeling Like (ft. Ms. Jordan LeeAnn x Drumma SC x Pimp'N)
Sex Session (ft. Pimp'N x Ms. Malibu Brandi x Ms. ChxllQueen x Shableek)
MerryGoRound (ft. Ms. Ruby Galore x Pimp'N x Drumma SC x Ms. MicaliahStarr)
Fun Bitch (ft. Ms. Sha Town x Pimp'N x Ms. IamMoney)
Big Petty (ft. Ms. Malibu Brandi x Pimp'N)
C.A.F. (ft. Drumma SC x Pimp'N x Joey Bandz x Shawty Redd)
What If (ft. Pimp'N x QzDamusiqman x Mr. Miami x Ms. Coota Cash)
Sexercise (ft. Pimp'N x QzDamusiqman x Mr. Popular x Jonez X Shableek)
Crazy (ft. Ms. Ba-bie x Drumma SC x Pimp'N x Ms. ChxllQueen)
Imperfection (ft. Ms. AC2Lit x Pimp'N x Ms. MicaliahStarr)
Cool Down (ft. Pimp'N X Shableek x Ms. Jward)